World's Leading Obstacle Course Brand Returns to Wales in Multi-Year Agreement with Glanusk Estate
29 January 2020; London, U.K: Spartan U.K and Ireland, the world's leading obstacle course race brand, has announced its return to the beautiful Glanusk Estate, Crickhowell, South Wales on Saturday 20th and Sunday 21st June, fitting in with the Welsh Assembly's 'Year of the Outdoors.'
The multi-year deal means that the stunning Estate, in the heart of the mesmerising Black Mountains of the Brecon Beacons National Park, will host the Spartan community for a number of seasons to come and provide an exceptional race setting for those chasing the regional series crown.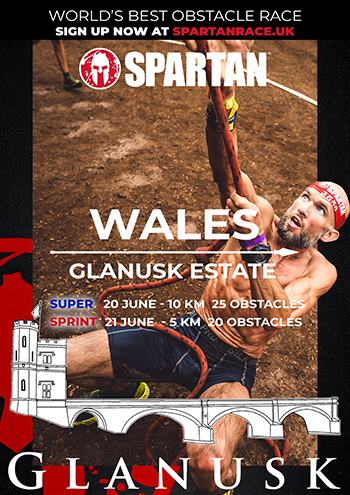 Registration is now live for the 2020 event and early demand has been unprecedented with thousands already signed up. With Spartans expected to travel from far and wide to take part, the race weekend is not only set to be an iconic spectacle for locals to see and partake in but will also contribute positively to the local economy and tourism within the region.
Through their all-ability, welcoming format, Spartan events are designed to get communities moving and active, whilst providing a fun and rewarding platform to support healthy lifestyle changes and general wellbeing. Together, Spartan and the Glanusk Estate are aiming to encourage the region to put down their smartphones, turn off the TV and embrace the great outdoors. The race itself has everything; a variety of terrain ranging from woodland, wetlands and stunning vistas, and will be packed full of Spartan's signature obstacles, including spear throws, rope climbs and fire jumps that are all guaranteed to get the adrenaline pumping regardless of ability.
Across the 2020 race weekend, participants will have two different race options to choose from: the 5km Sprint event and the slightly more challenging 10km Super. There is also a Kids race, featuring smaller versions of Spartan's signature obstacles, for younger thrill seekers who want to get outdoors and live life adventurously.
The Sprint puts endurance aside and provides a 5km course packed with 20 of Spartan's most fun, exciting and challenging obstacles. It's the perfect distance for either first time participants who are new to obstacle course racing, or the more experienced racer who is looking to test their speed against the clock.
The 10km Super is suited for the more experienced athlete, offering the ideal blend between distance and speed, as well as 25 obstacles of all shapes and sizes to navigate along the way. Developed as the second race in the Spartan Trifecta, the Super is where you prove to yourself you've got everything it takes to face the Beast.
Participants can choose between taking on the race as an individual, team, or corporate group; after all what's more fun than challenging friends, family or colleagues in a race to the finish line.
Spartan UK Managing Director, Matthew Brooke said: "I'm delighted to announce that Spartan is returning to Wales and can't wait to test our Spartan's in what is usually the land of the Dragons! We haven't held an event here for 5 years and it's fitting that we return during the Welsh 'Year of the Outdoors.' The setting of the Glanusk Estate and its stunning Brecon Beacons backdrop is unrivalled, and with so many Welsh racers already committed to joining us, I'm excited to see how the event will inspire the regional community to get active, test themselves and above all have fun along the way!"
Harry Legge-Bourke, Managing Partner and Trustee at Glanusk says: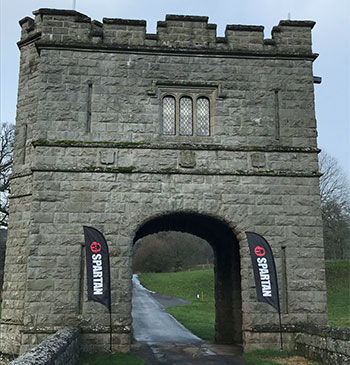 "We are all delighted to welcome back Spartan to Wales and Glanusk after a few years of absence. This is a tremendous global brand returning to Wales and the Black Mountains and The Brecon Beacons National Park. We very much look forward to welcoming competitors from all over the UK and Europe and particularly look forward to seeing the races for teenagers and the young Spartan course, an inspiring vision of the young getting outside and being challenged both physically and mentally. I hope there will be a Glanusk team entering this year's races as well!'
2019 saw over 40,000 racers take on Spartan races in the UK and Ireland, with an average of 7,000 per event. This year there will be even more racers taking part in at least seven race weekends up and down the country, with other scheduled events to take place in Ireland, Midlands, Scotland, Windsor and Twickenham.
Spartan was founded by world-class adventure racer Joe De Sena in 2008 and has grown to become the world's largest obstacle race and endurance brand, with over 200 events in more than 43 countries worldwide. For more info and to register for the 2020 Wales event visit: https://www.spartanrace.uk/en/race/detail/5920/overview